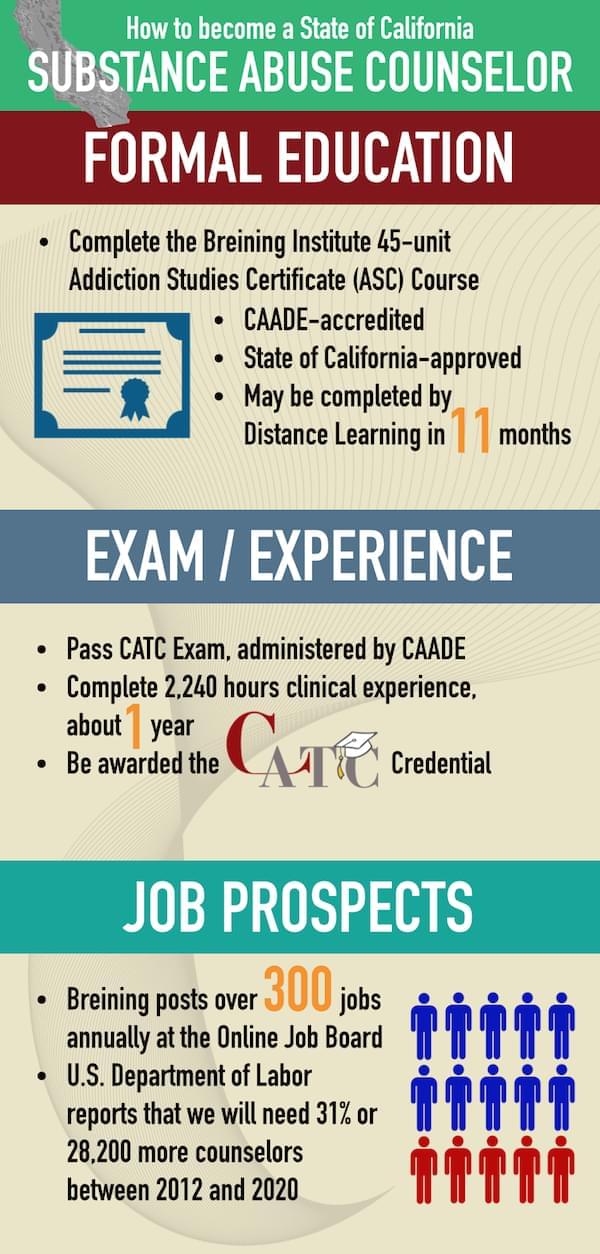 28,200 more counselors needed by 2022
"Employment of substance abuse and behavioral disorder counselors is projected to grow 31 percent from 2012 to 2022, much faster than the average for all occupations." Bureau of Labor Statistics, U.S. Department of Labor, Occupational Outlook Handbook, 2014-15 Edition.
Eligibility
Formal Education: CAADE-accredited 45 units Addiction Studies Certificate (ASC) Course
Exam: CATC Exam
Experience: 2,240 hours of supervised clinical experience in an AOD/SUD program
Formal Education
The Breining Institute 45-unit Addiction Studies Certificate (ASC) Course is State of California-approved and CAADE-accredited. You may complete the ASC Course entirely through distance learning. For more information about this qualifying formal education course select this link: ASC Course
CATC Exam
After you complete your formal education, you should apply with CAADE to take the CATC Exam, which is a computer-based exam administered at nearly 80 locations throughout California. To apply with CAADE for the exam, select this link: CATC Exam Application
CATC Exam Online Tutorial
Breining has developed an online, six-part CATC Exam Tutorial to help you prepare for the CATC Exam. The tutorial is free. The recommended textbooks, which the tutorial walks you through, are The Addiction Professional: Manual for Counselor Competency, 3rd Edition (2014), Breining Institute; and Intervention, Treatment and Recovery: A Practical Guide to the TAP 21 Addiction Counseling Competencies (2013), Lori L. Phelps, Psy.D., CATC V, Executive Director, CAADE.
Use these links to access the tutorial:
Part 1 – Part 2 – Part 3 – Part 4 – Part 5 – Part 6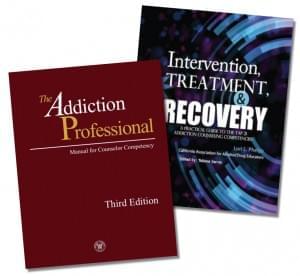 Bundle Price to purchase both textbooks
Save $15 when purchase both textbooks at the same time
The Addiction Professional, 3rd Edition and
Intervention, Treatment and Recovery, 2nd Edition
$211.70 (includes tax and shipping to US addresses)
Select picture of books, above, to order the Bundle
California Counselors: Pre-registration, Registration and Certification Requirements
Individuals providing AOD counseling services in a State-licensed AOD program must be registered within 6 months of starting to provide services, and then fully certified as an AOD counselor within 5 years of registration. (Cal. Code of Regulations, Title 9, Div. 4, Chap. 8, Section 13035(f).)
Pre-registration: Prior to registering as an AOD counselor, individuals must complete a "nine-hour orientation course" of introductory AODSUD education, consisting of 3 hours each of ethics, confidentiality and professional boundaries. The Breining Institute online Basics Bundle course satisfies this requirement.
The Basics Bundle course material is a free download. Use online Answer Sheet to complete the course and receive credit. No charge until you pass the exam with at least 70% correct answers.
Select this link to Breining's CE page to access the 9-hour Basics Bundle
Registration: If you are providing counseling services in a State-licensed AOD/SUD program, you must be registered. Here is a link to the CAADE Registration page: CAADE Registration