Breining Institute has provided higher education and advanced training to addiction professionals since 1986.
The U.S. Department of Labor projects that employment of substance abuse, behavioral disorder and mental health counselors will grow 20 percent from 2016 to 2026, "much faster than average" for all occupations. (Bureau of Labor Statistics, U.S. Department of Labor, Occupational Outlook Handbook, 2017 Edition.)
Select this link to see what some Breining Institute students, graduates, and professional credential recipients, located in 47 U.S. States and 22 countries, have shared about their respective experiences in this challenging, but rewarding, profession: IN YOUR WORDS
---
This advanced or "Professional Track" Addiction Studies Certificate Program requires completing 45 units (450 hours) of coursework.

This program is self-paced, and may be completed entirely through Distance Learning.

If you spend 10 hrs / week on your work, you should finish in about 11 months. 

You are allowed 2 years to complete this program.
---
Application / Enrollment Periods
The Addiction Studies Certificate (ASC) course is an open-application / open-enrollment program, to which you may apply and start at any time. You may apply for this course today using the link to the Online Application for Admission form below.
---
Helpful Links
Online Application for Admission
College Tuition / Fees Payment Form
Addiction Counselor Exam (ACE) Request
Study Material and Online Tutorial for Addiction Counselor Exam (ACE)
ASC Course Online Answer Sheets
Journal of Addictive Disorders (JAD)
Higher Education Survey: Report – September 2015
Mission, Vision, Institutional Objectives, and Core Values
---
State of California approved since 1986
Breining Institute, with its main campus located in California, was first approved as a provider of higher education by the State of California Department of Education in 1986.
Our certificate programs have been specifically approved by the State of California after comprehensive review, and the current agency under which that approval is granted is the Department of Consumer Affairs, Bureau for Private Postsecondary Education (BPPE), which may be confirmed at this link: www.bppe.ca.gov
For over 20 years Breining Institute offered State of California-approved and nationally-recognized degree programs – Associate, Bachelor, Master and Doctorate (Dr.AD) Degrees in Addictive Disorders – from 1996 to 2017, but has discontinued offering these degrees. Students who earned those degrees may still request and obtain Official Transcripts for the units and/or degrees earned through those programs by using the Transcript Request Form.
Here are BPPE-required links:
Bureau for Private Postsecondary Education (BPPE) web site
School Performance Fact Sheet – Addiction Studies Certificate Program
BPPE-required notice and statement: "Approval" means "compliance with state standards as set forth in the Education Code." Cal. Ed. Code section 94897(l).
---
Approvals for California counselors
For California counselors seeking State of California-approved certification by professional membership organizations in California, the Breining Institute ASC Course is approved as qualifying formal education for their respective State-approved certifications by California Association of DUI Treatment Programs (CADTP); California Association for Alcohol / Drug Educators (CAADE); and, California Consortium for Addiction Programs and Professionals (CCAPP).
The CADTP State-approved certification is the Certified Alcohol and Other Drug Abuse Counselor (CAODC), and approval may be verified at its website at this link: CAODC Certification 
The CCAPP State-approved certification is the Certified Alcohol Drug Counselor (CADC), and approval is through its California Consortium for Addiction Programs and Professionals – Education Institute (CCAPP-EI), which may be verified at this link: CCAPP Approved Schools
The CAADE certification that was State-approved up to November 30, 2017 was the Certified Addiction Treatment Counselor (CATC); however, the State of California withdrew its approval of the CATC certification in December 2017, after it failed to obtain renewal accreditation of its certification program. On July 19, 2018, CAADE announced that it has been reaccredited, and it is anticipated that CAADE will be re-approved as a State-approved AOD counselor certification agency by the State of California soon.
---
Breining and ASC Course accredited by CAADE
Breining Institute is pleased it is part of the class of distinguished educational institutions that have earned formal accreditation from the prestigious California Statewide Accreditation Committee of the California Association for Alcohol / Drug Educators (CAADE).
CAADE describes its accreditation guidelines as "rigorous," and that, having met these guidelines, "accreditation by CAADE distinguishes your students as among the most highly trained in the state."
More information about the CAADE Accreditation is available at this link: CAADE Accreditation
---

Apple Discounts
Breining Institute students and faculty receive special education pricing on Apple computers, software, and other products at Apple retail store locations and at the online Apple Store for Education
---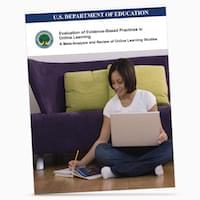 Online students do better
A U.S. Department of Education report concluded that adult distance learning students perform better.
Why? Our experience over 30 years suggests that distance learning students need to have the maturity, motivation and discipline to complete assignments outside of the closely-monitored classroom environment. Fortunately for these students, employers will typically prefer to hire individuals who have demonstrated greater maturity and motivation, which the completion of a quality distance learning program will provide.
Breining Institute distance learning addiction studies programs are not easy. They are meant to challenge students so that they learn valuable information that they can take with them that will make them competent addiction professionals.
A copy of the U.S. Department of Education report is available here: Evaluation of Evidence-Based Practices in Online Learning