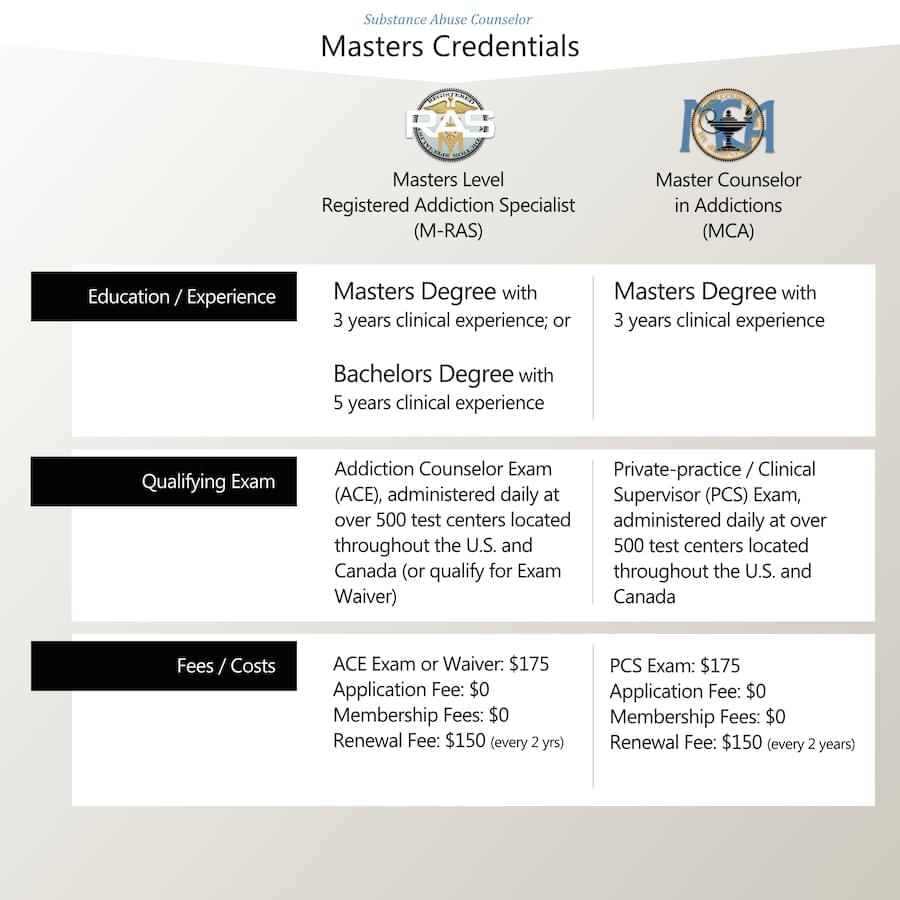 Breining Institute credentials are held by addiction professionals in 47 U.S. States and 18 countries.
Both the Masters Level – Registered Addiction Specialist (M-RAS) and Master Counselor in Addictions (MCA) Credentials are available to counselors with an underlying certification or license, advanced experience and education. The qualifying exams to earn these Credentials are available daily at over 500 test centers located throughout the United States and Canada.
M-RAS Applicants who are existing RAS Credential Holders:
The M-RAS is a FREE upgrade for qualified RAS, RAS II and RAS III Credential holders. Candidates for the M-RAS Credential who already hold and are current with the RAS, RAS II or RAS III Credential, and who have already passed the ACE or RAS Exam, will not need to retest. You will need to submit a completed application, with documentation that you have met the additional education and experience requirements for the M-RAS Credential.
M-RAS Credential Exam Waiver / Reciprocity:
Candidates will NOT be required to take the ACE Exam for the M-RAS Credential, if:
Already passed the ACE Exam; or

Already passed the RAS Exam; or

Already passed one of the following alternative acceptable exams:

Certified Addictions Treatment Counselor (CATC) Exam, administered by California Association for Alcohol / Drug Educators;

National Certified Addiction Counselor (NCAC) Exam, Level I or II, administered by National Association of Alcohol and Drug Abuse Counselors (NAADAC); or

Alcohol and Drug Counselor (ADC) or Advanced Alcohol and Drug Counselor (AADC) Exam, administered by International Certification & Reciprocity Consortium (ICRC).
Documentation of having passed an alternative acceptable exam may be satisfied by submitting a copy of your certificate or license from an agency that requires passing one of those alternative exams as a condition of being awarded the certificate or license (for example, submitting a copy of your NCAC I certification from NAADAC).
Get started:
Select the following links to get started on earning your Masters Credential: