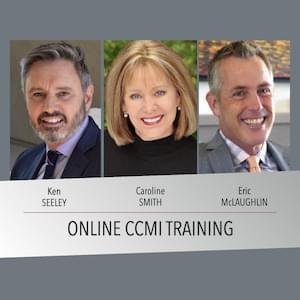 CCMI Intervention Training Modules
Intervention is a first step toward recovery. Continuing case management increases chance of long-term recovery.
The Certified Case Manager Interventionist (CCMI) Training Modules, presented by widely-respected Ken Seeley and Eric McLaughlin from Intervention911.com and Ken Seeley Communities IOP (California), offer advanced knowledge and skills necessary to initiate and support the recovery process from the very beginning of recovery through long-term wellness.
These courses also count toward earning the nationally awarded CCMI Credential, available exclusively through Breining Institute. More information about how to earn the CCMI Credential is available at this link: Certified Case Manager Interventionist (CCMI)
CONTINUING EDUCATION (CE) CREDIT: Each of these individual Modules may also be completed and counted as 25.0 hours of Breining Institute-recognized continuing education (CE) credit, for Breining Institute-issued certifications and credentials. Licensed social workers and psychologists in many States may also earn up to 22.75 hours for each Module completed (please verify with your local licensing agency).
---
UPCOMING TRAININGS
CCMI Module 5 – INTERVENTION and CASE MANAGEMENT for MENTAL HEALTH and PROCESS ADDICTIONS
October 15 – 17, 2021
Time: 7:00 am to 4:00 pm (Pacific Time), each day
CE credit hours: 25 hours
Cost: $750
Course Summary: There are many decisions that you will make every day. Understanding best practices that are guided by a code of ethics is important to providing top-level client care. As a provider, maintaining the utmost professionalism is so important. This module will support you in understanding ethical considerations as an interventionist, case manager and within the treatment industry. This Mod also features continued training on Motivational Interviewing techniques, appropriate and ethical clinical documentation and crisis intervention. It will also highlight the importance of self-care and how a well-maintained provider will be able to provide the highest level of care for their client.
Online Registration: Intervention911.com/events
---
RECENTLY COMPLETED
CCMI Module 4 – CULTURAL AWARENESS
This live online course was presented September 24 -26, 2021, and is now concluded.
CE credit hours: 25 hours
Course Summary: Being culturally sensitive can be the difference between engaging a family and stopping the process of change. Understanding and awareness are the first steps to meeting the needs of clients. This module will also explore specific issues to specialty populations such as older adults, adolescents, LGBTQ and First Responders/Veterans. This Mod also features continued training on Motivational Interviewing techniques, clinical documentation and crisis intervention.
Course Evaluation Form (to be completed by attendees within 7 days of the conclusion of the course): CCMI Module 4 – Course Evaluation Form
CCMI Module 3 – PROFESSIONALISM, ETHICS and SELF-CARE
This live online course was presented August 20 – 22, 2021, and is now concluded.
CE credit hours: 25 hours
Course Summary: Drug and alcohol addiction is not the only issue facing the families we work with.  Many have co-occurring mental health issues or process addictions that can make intervention and case management more complex and challenging.  Learn to identify, work with and support clients who have complex presentations. This Mod also features continued training on Motivational Interviewing techniques, clinical documentation and crisis intervention.
Course Evaluation Form (to be completed by attendees within 7 days of the conclusion of the course): CCMI Module 3 – Course Evaluation Form
CCMI Module 2 – INTERVENTION, CASE MANAGEMENT & FAMILY SYSTEMS
This live online course was presented July 16 – 18, 2021, and is now concluded.
CE credit hours: 25 hours
Course Summary: Families struggle to know what to do when faced with addiction and mental health issues. This training will help explore family dynamics, understand family systems and learn how to create a recovery plan for the entire family. We will also explore how to intervene on the Codependency that is central to family relapse. This Mod also features continued training on Motivational Interviewing techniques, clinical documentation and crisis intervention.
Course Evaluation Form (to be completed by attendees within 7 days of the conclusion of the course): CCMI Module 2 – Course Evaluation Form
CCMI Module 1 – INTRODUCTION TO INTERVENTION AND CASE MANAGEMENT
This live online course was presented June 11 – 13, 2021, and is now concluded.
CE credit hours: 25 hours
Course Summary: An overview of the principles and strategies on which to develop skills to successfully conduct interventions and provide the appropriate support post intervention. This Mod also features continued training on Motivational Interviewing techniques, clinical documentation and crisis intervention.
Course Evaluation Form (to be completed by attendees within 7 days of the conclusion of the course): CCMI Module 1 – Course Evaluation Form
CCMI Module 5 – INTERVENTION and CASE MANAGEMENT for MENTAL HEALTH and PROCESS ADDICTIONS
• This live online course was presented May 14 – 16, 2021, and is now concluded
• CE credit hours: 25 hours
• Course Summary: There are many decisions that you will make every day. Understanding best practices that are guided by a code of ethics is important to providing top-level client care. As a provider, maintaining the utmost professionalism is so important. This module will support you in understanding ethical considerations as an interventionist, case manager and within the treatment industry. This Mod also features continued training on Motivational Interviewing techniques, appropriate and ethical clinical documentation and crisis intervention. It will also highlight the importance of self-care and how a well-maintained provider will be able to provide the highest level of care for their client.
• Course Evaluation Form (to be completed by attendees within 7 days of the conclusion of the course): CCMI Module 5 – Course Evaluation Form
CCMI Module 4 – CULTURAL AWARENESS: Bringing Cultural Competencies to Intervention and Long-Term Recovery Support Offerings
• This live online course was presented April 16 – 18, 2021, and is now concluded.
• CE credit hours: 25 hours
• Course Summary: Being culturally sensitive can be the difference between engaging a family and stopping the process of change. Understanding and awareness are the first steps to meeting the needs of clients. This module will also explore specific issues to specialty populations such as older adults, adolescents, LGBTQ and First Responders/Veterans. This Mod also features continued training on Motivational Interviewing techniques, clinical documentation and crisis intervention.
• Course Evaluation Form (to be completed by attendees within 7 days of the conclusion of the course): CCMI Module 4 – Course Evaluation Form
CCMI Module 3 – PROFESSIONALISM, ETHICS AND SELF CARE
This live online course was presented March 12 – 14, 2021, and is now concluded.
CE credit hours: 25 hours
Course Summary: Drug and alcohol addiction is not the only issue facing the families we work with. Many have co-occurring mental health issues or process addictions that can make intervention and case management more complex and challenging. Learn to identify, work with and support clients who have complex presentations. This Mod also features continued training on Motivational Interviewing techniques, clinical documentation and crisis intervention.
Course Evaluation Form (to be completed by attendees within 7 days of the conclusion of the course): CCMI Module 3 – Course Evaluation Form
CCMI Module 2 – INTERVENTION, CASE MANAGEMENT & FAMILY SYSTEMS
This live online course was presented February 19 – 21, 2021, and is now concluded.
CE credit hours: 25 hours
Course Summary: Families struggle to know what to do when faced with addiction and mental health issues. This training will help explore family dynamics, understand family systems and learn how to create a recovery plan for the entire family. We will also explore how to intervene on the Codependency that is central to family relapse. This Mod also features continued training on Motivational Interviewing techniques, clinical documentation and crisis intervention.
Course Evaluation Form (to be completed by attendees within 7 days of the conclusion of the course): CCMI Module 2 – Course Evaluation Form
CCMI Module 1 – INTRODUCTION TO INTERVENTION AND CASE MANAGEMENT
This live online course was presented January 15 – 17, 2021, and is now concluded.
CE credit hours: 25 hours
Course Summary: An overview of the principles and strategies on which to develop skills to successfully conduct interventions and provide the appropriate support post intervention. This Mod also features continued training on Motivational Interviewing techniques, clinical documentation and crisis intervention.
Course Evaluation Form (to be completed by attendees within 7 days of the conclusion of the course): CCMI Module 1 – Course Evaluation Form
---
COURSE EVALUATION SUMMARIES
4.8 / 5

Participants from:
31 U.S. States; Canada; England; Iceland; Netherlands; South Africa
Typical comments:
"Ken and Eric do a great job of combining both clinical training and experience to help attendees strike a balance in their learning." TB, Nampa, Idaho
"I learned a significant amount of relevant information. Excellent delivery of a highly intensive course and subject content." CD, Manchester, England
"Great training that I would suggest to anyone who works in the industry." LC, Madisonville, Louisiana
"The content was clear. Practical applications were explained. I loved the Q&A each day." LM, Cedar Park, Texas
"This course and the way it was taught, and the instructors made it the best virtual experience I've had to date." EE, Lewisville, North Carolina
"Eric and Ken are superb. Can't wait to do more." GC, Gauteng, South Africa
"As much as I love the in person trainings, I really enjoyed this one more than I anticipated I would using Zoom." RE, San Marcos, California
"Enjoyed using technology to deliver a very informative training – especially the break out rooms and automatic polling." SC, Santa Fe, New Mexico
"Excellent navigation of the online format with 100+ people. Well done Eric and Ken." EG, Spencer, New York